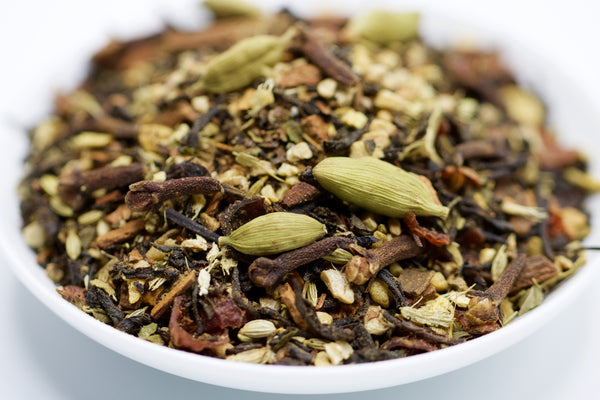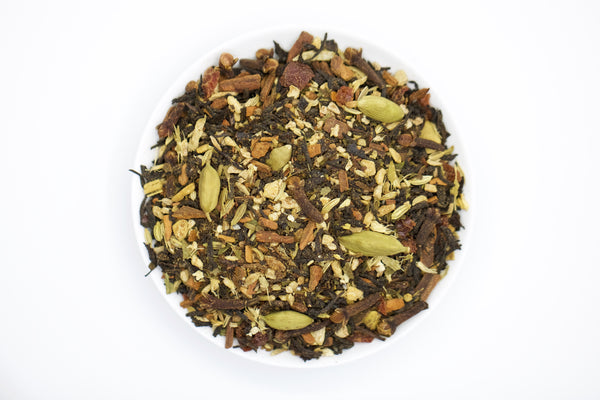 Masala Chai
A bold and fragrant mix of black tea, herbs, and spices based on a good friend's family Chai recipe from Pune, India. 
Ingredients:  black tea, cinnamon sticks, star anise, rose hips, cloves, dried ginger, licorice root, black pepper, green cardamom, fennel, mint, and honeybush.
Tasting notes: black tea, sweet, full-bodied, nice spice level but not too spicy, complex variety of flavor notes that can be detected. 
Health notes: anti-inflammatory, supports joint health, helps calm, protect, and heal the stomach, helps relieve nausea, supports digestive tract health, helps with blood flow, has anti-microbial qualities, is warming, helps soothe sore throats, contains antioxidants, supports mucous membrane health, helps relieve pain from cramps and bloating, and supports the immune system.
Brewing Guidelines
Combine 1½c water, 2 heaping tablespoons of chai mix. Boil 5 minutes, add 1c whole milk (or milk substitute), bring to boil, simmer for 2 minutes. Strain, sweeten to taste, and serve.