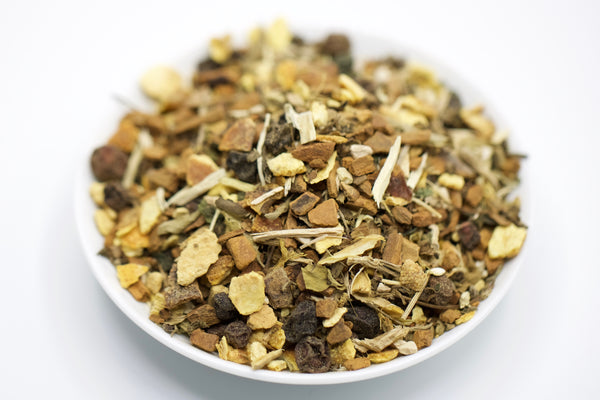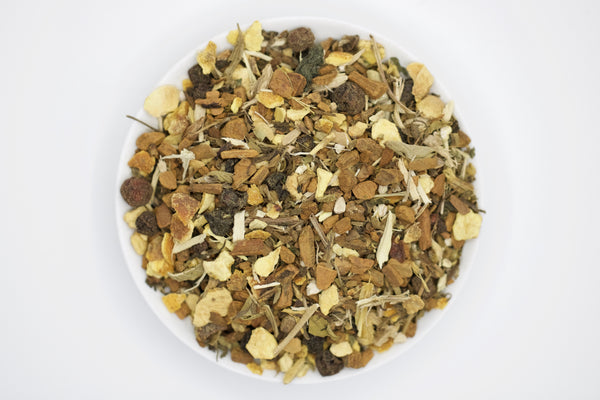 Adaptogen Blend
Adaptogens are those herbs that are believed to have a normalizing effect on the body and its systems as well as reduce stress. When feeling imbalanced, adaptogens may help restore our whole selves to a state of equilibrium and relaxation. Enjoy our unique, caffeine-free combination of Schizandra Berries (from Northern China), Tulsi (from India), Eleuthero (from Northeastern Asia), Ashwagandha Root (from India), Orange Peel, Licorice Root, Nettle Leaf, and Cinnamon.
Ingredients: ashwagandha, cinnamon, eleuthero root, licorice root, nettle leaf, orange peel, schizandra berries, tulsi.
Tasting notes: autumn citrus spice, cinnamon, rhubarb berry cider, tulsi.
Health notes: believed to help balance the different processes in the body, helpful for adapting to stress, believed to promote longevity, anti-fatigue, immunogenic, promotes skin health, anti-depressant, anti-anxiety.
Brewing Guidelines
Teapot/mug: 1 tablespoon of dry leaf per 8oz of water. 195°-205° water. Steep for 5 minutes. 8 minutes for each additional infusion.